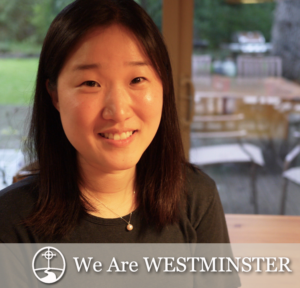 I came to the States for my PhD study in Chemical Engineering at Texas A&M which I graduated in May. My family and I prayed that I can find a good church I would love to be with and I was happy to come to Westminster when I found that we are the church, the body of Christ.
I grew up in a Christian family, but then I didn't really know how I could be saved. Then in my twenties, there were some hard times in my life, spiritually and everything. Then I got to be able to listen to the full story of the gospel. Before that, I thought I believed in Jesus but I thought I could do it by myself. In church I got to get into a Bible study. It was a turning point in my spiritual life. I did Bible studies before, but at this time I was more focused on the gospel story. Because of that, even though when I came here, I had hard times, it helps me to be strong again in God. Sometimes thinking about myself, I think it would be better if I didn't have those hard times! Then I could get my PhD done earlier in my age and I would not have to be separated from my husband, those kinds of things. But then whenever I had hard times, I want to give up on everything, and then I am reminded how God worked in my life, and how he is faithful.
I have sung in choirs since when I was 5th grade. I like singing with other people as a choir, that we can make beautiful harmony and each of us makes one voice to praise God. Practicing Sunday anthems and cantata music helps me to be reminded of God's grace that worked through my life.