Welcome To Westminster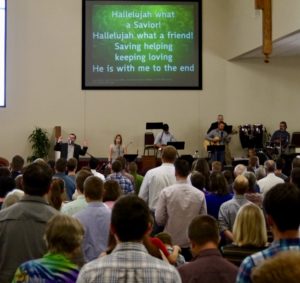 We're glad you're here! And we invite you to personally experience Westminster on a Sunday morning.
In our years of doing and being the church in Bryan/College Station, we have witnessed the challenges of a society and culture that is on the move and transitory. In some ways, it feels like there is less and less a place of permanence and belonging in our world today. And yet we all hunger and seek after these things. Add to this the busyness and pace of life, connecting with a church can seem near impossible at worst and challenging at best. We hope to encourage and help you find your way!
Particulars about our worship services:
We have one Sunday Worship service at 10:25 AM. Sunday school for all ages is offered at 9:00 AM.
We celebrate weekly communion and invite all professing baptized Christians who are in good standing with a gospel believing church to keep the feast with us.
We invite and welcome all people. Westminster is a Biblical, Reformed, Covenantal community that especially welcomes those who are searching and even skeptical of Christ and His church. We love to dialogue and talk with everyone about who Jesus really is.
If you are new, we suggest arriving 10 minutes ahead to navigate parking and our facility.
We offer parents the freedom of either keeping their younger children with them in the service or making use of the children's ministries that are available on Sunday mornings. Infants through age 3 are welcome in our nursery. Additionally, during the sermon portion of the service the Worship Kidz program is offered to children ages 4-7.
First and foremost, Westminster is a church that celebrates the gospel. Look for and expect that when you worship with us. The good news of Jesus Christ is foremost and we strive by God's grace and with his help to keep the gospel at the center of who we are and all we do. In our corporate worship and in our shared life, we want to make much of Jesus and his work of redemption for us and for the world.
Are You a Student?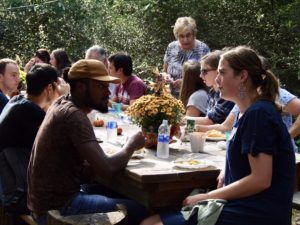 A big part of our mission and purpose is to be a church for the University. We delight in being a church home for students, faculty and staff for Texas A&M University and Blinn College. We believe growing in Christ and being connected with his church is an important part of the college experience. We have many students who worship with us on Sundays and others who connect more deeply in our church community and serve in and with Westminster in various ways.
We encourage students to connect not only with a church in their time at school but also with a campus ministry. We partner with Reformed University Fellowship (RUF) at Texas A&M University (Blinn students are welcome also!) and RUF-International at Texas A&M University.
Let Us Help You Find Your Way!
If you are visiting Westminster on a Sunday morning, look for a greeter who can supply you with information about our locations, our facility, RUF and RUF International, Sunday School classes for all ages, and more.