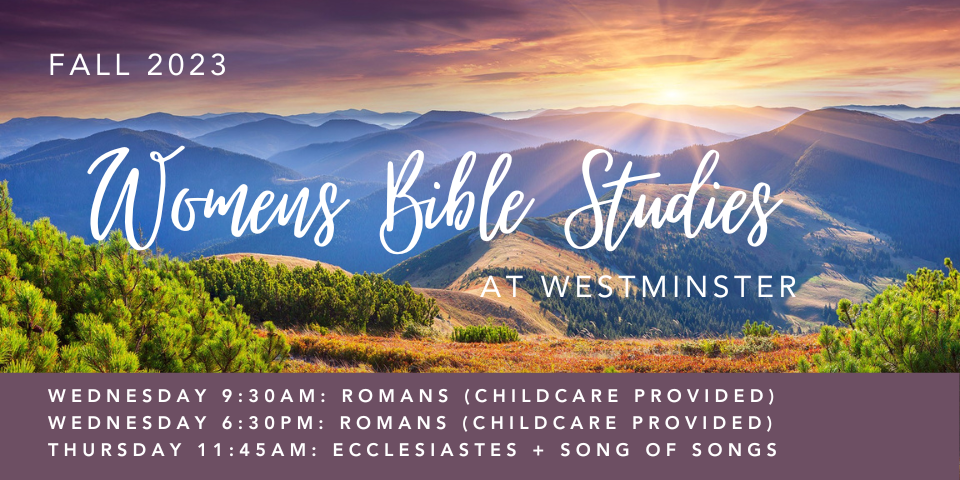 Ladies,
Please join us this fall for a Women's Bible Study! 🍂 We will be offering Wednesday Morning, Wednesday Evening and Thursday Lunch studies.
Wednesday morning and evening we will be studying In View of God's Mercies: The Gift of the Gospel in Romans by Courtney Doctor. Romans is a passionate letter written by Paul, a man completely captured by the beauty, mercy, and majesty of God and His glorious salvation. Paul wanted his readers, then and now, to know how amazing and all-encompassing this salvation actually is—that it's powerful, planned, eternal, free, and leads to a transformed life. Walk through the book of Romans to discover that salvation doesn't just change your eternal future; it changes your present reality. Because of God's salvation, hope, peace, life, faith, trust, and endurance are yours. These studies begin September 6th with morning studies from 9:30 to 11:30 a.m. with hot drinks and water available. The evening study is part of Wednesdays @ Westminster which begins at 6:00 with a simple dinner for the family, then the study will run from 6:30 to 8:00 p.m. Both times will have a video segment and group discussion. Childcare options are available during both times.
The Thursday Lunch group will study Ecclesiastes and Song of Songs: Wisdom's Searching and Finding by Kathleen Nielson. In this study you will cover two of the most beautiful Old Testament poetic books, both of which deal with universal, basic human quests: for the meaning of life (Ecclesiastes) and the joy of love (Song of Songs). Careful attention to textual form and content combines with personal meditation and application This study begins September 7th from 11:45 a.m. to 1:00 p.m. Childcare is available.
Click here to sign up for a womens Bible study! Looking forward to seeing you!
Joy & Peace,
Beth Gready
Women's Bible Study Coordinator