To give a gift to Westminster using a credit or debit card, you may visit the Westminster giving website here. You will need an email address and password to register for the giving web page. For setting up Bank Drafts, click here.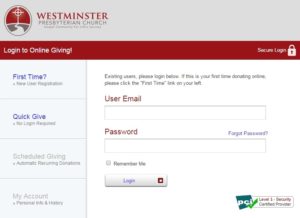 First Time Users – Click on the link "First Time? New User Registration," which will open a form in which you enter your name, mailing address, and email address, and you also select a password. For current WPC members, the email address should be the same as you previously provided to WPC. The password that you select for this giving website may be the same as the one you use to sign in to the Westminster membership website (or you can select a different password for the giving website).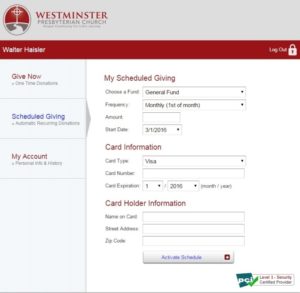 Setting Up a Recurring/Scheduled Online Contribution – To setup a scheduled contribution, click on the "Scheduled Giving – Automatic Recurring Donations" link. This will provide a form which allows you to choose the Fund to contribute to, the Frequency of the donation, Amount, Start Date, Card Information and Card Holder Information. Once you have entered all information, click on the "Activate Schedule" button.
Current Funds that can be contributed to include:
General Fund, Pledge of Faith, Alms, Capital Fund and Renovation and Deferred Maintenance.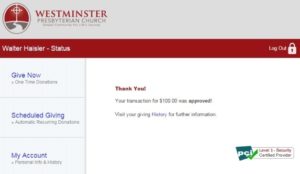 Email Acknowledgment of your Contribution – After your contribution transaction has been completed, you will receive an automated email from Westminster Presbyterian Church acknowledging your contribution and the amount.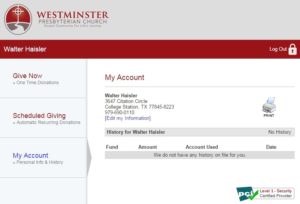 My Account – The My Account link (left hand side of the webpage) may be used at any time to view your online giving history including: Fund contributed to, Amount, Account Used, and Date of contribution.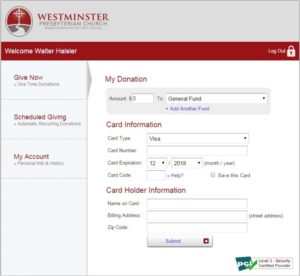 Making a One Time Donation (Give Now) – Once you have completed the User Registration, you can enter your User Email and Password, and click the Login button. This will take you to the next page (Give Now) where you specify the amount of your donation, which fund it should be credited to, your card information and the card holder information. Click the Submit button at the bottom of the page to complete the transaction. After the transaction is completed, a Thank You page will be displayed.
To download a printable pdf copy of these instructions for using the website to make online contributions to Westminster, please click here .