My Giving to Westminster – Online Membership and Giving Records Website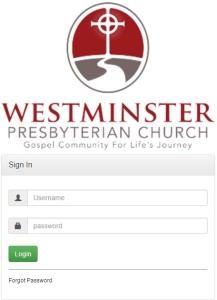 Westminster maintains a secure member website which allows church members to view and edit their personal data including:  name, address, contact, and other information.  In addition, members may view their personal record of giving by date, which fund was contributed to, etc.  Members may also view the church membership directory to obtain contact information.
To use this website, use your browser to go to https://wpc.churchofficechms.com/user/login.  Please sign in using the email address that Westminster has on file for you.  If you are uncertain as to which email address that WPC has for you, please call Jana at the office 776-1185 and she can provide that information to you.  First-time users should enter their email address and then click on the "Forgot Password" link at the bottom of the webpage.  You will then receive an email from WPC Church Office Online providing your username (the username should be of the form firstname.lastname) and your new password.  Log back in to the above website with your username and password.
Once you are signed in, you will see a webpage similar to that shown below.  The "View" tab shows the current contact information for you and your family members.  The "Edit" tab may be used to edit your personal contact information as well as that of your family members.  The "Giving" tab provides a listing of your giving to Westminster by date.  You can change your password on the Account Tab if you want to do that.  Finally, a directory of members can be accessed by clicking the "Directory" button at the top of the webpage.  The directory provides contact information for church membership.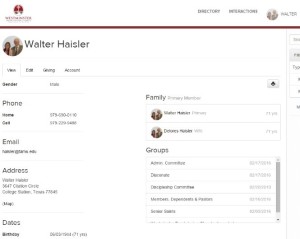 The WPC Membership Team would encourage you to review and edit your WPC membership data.  Please take the time to correct any personal information that needs to be edited.  If you don't see a birthdate listed, please enter that.  All of the changes that you submit will be reviewed by the webpage administrator and, after being approved, the edits will be placed on the webpage permanently.  You will be notified when the proposed edits are approved.
To View a History of All Giving to Westminster – Note that all of your contributions made by check, cash, through your bank's bill pay system and your online contributions will all be recorded on your personal portion of the Westminster Membership and Giving webpage.  To see your giving history, use your browser to go to https://wpc.churchofficechms.com/user/login, enter your membership user name and password, and click on the "Giving" tab.  In the upper right portion of the Giving listing is a "Gear" icon which can be clicked to create a printed copy of your giving to Westminster.  The Gear icon can also be used to specify the start and end date of the listing – do this by choosing Filter when you click on the Gear icon and then specify a date range.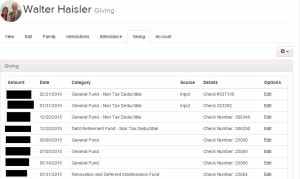 The Directory Button is a convenient way to find contact information for WPC Church Members including phone numbers, email addresses, family member names, family pictures, etc.  Clicking on the Directory link in the upper right portion of the main WPC membership webpage displays a list of church members.  Click on the name of an individual whose contact information that you want to see displayed.
To download a printable pdf copy of the instructions for using the Membership and Giving History website, click here.