Oct 05, 2017 07:00 am | Andrew Shaughnessy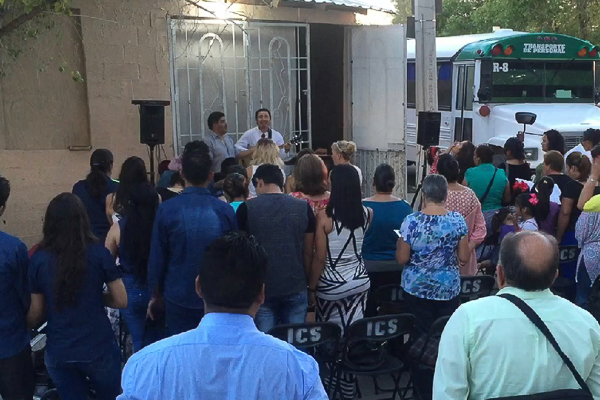 Ciudad Juarez became a ghost town when the sun went down—the streets eerily quiet and empty, the night ruled by the cartels and gangs and corrupt cops. MTW missionaries Jamie and Jennifer Burkemper had originally come to work with street children, but when they arrived in Juarez they discovered that the fear that had sunk its claws into the city and its people made effective ministry in the streets nearly impossible.
"When we arrived the violence was really, really bad," said Jamie. "The cartels and gangs were in the streets, and it was too dangerous for the church and us to work with the street kids without putting both us and them at risk, so we started focusing our efforts within the church … and part of that was working on their mercy ministry."
At the time, according to Jamie, the Presbyterian Church in Juarez's evangelism and mercy ministry efforts primarily involved walking around Juarez neighborhoods, knocking on doors and handing out pamphlets. When the violence increased, communities became more gated, putting up literal walls and hiring guards, making that sort of direct evangelism difficult. But as the violence subsided, Jamie and Jennifer began to work with the church in Juarez to develop a vision to simultaneously reduce dependency on support from the U.S. and increase their church-planting efforts from within. Key to this vision were mercy ministry efforts and the thoughtful and effective use of short-term missions teams.
Loving the community
"Our vision was to use mercy ministry as the mode of evangelism," said Jamie. "As the violence diminished we started doing English camps and fixing up houses in the community. We did that for a couple of years and had our first church plant grow out of that. That church grew rapidly because of its love for the community. They were taking care of their neighbors, loving them. They weren't just going in with a pamphlet, they were caring for their needs, doing music lessons, working with the kids in the park."
When short-term teams came from churches in the U.S. to put on kids' camps and fix up houses, the Mexican church would continue where the teams left off—reaching out to the same kids who had attended the camps, putting on projects in the park, and serving the neighborhood. They would give music lessons and have concerts where they would invite the parents and share the gospel. The work took time, effort, and building trust, but eventually they began to see people respond.
Reclaiming hope
These days, the drug violence is relatively low and contained, and, other than necessitating a few extra travel precautions, it doesn't really affect MTW's ministry. Though Juarez is mostly peaceful now, the shadow of dark years not long past still looms over the people.
"People had lost hope," said Jamie. "They lost hope in even friends and family, because some got caught up in the cartel or disappeared—grandbabies were left with grandparents who couldn't take care of them."
Then the church comes along with the gospel, offering real hope, living hope. According to Jamie, watching people grasp the transformative message of the gospel was amazing to see. It was like a weight was lifted off their shoulders, because now they had a family they could trust in—the church family.
Betrayal and violence carved deep scars, fostered fear, and turned hearts to stone. Even those who accepted the gospel right away still had deep-set trust issues. So the church tailored their response to people's fear, pursuing them in friendship and love, building bridges of trust and hope scaffolded by the gospel.
"Our focus isn't: 'Hey, we've got a church service going on. Why don't you come to our church service?'" said Jamie. "It's: 'I'll come over and study the Bible with you.' Or: 'We've got this small group you should check out.'"
Expanding church plants
The persistence of the church's care, spearheaded by acts of mercy, chipped away at granite hearts to reveal children of God underneath. And the church has grown enormously, multiplying and branching out as that burden-releasing love spreads from neighborhood to neighborhood and street to street.
MTW has been on the border for 20 years. They have one fully organized church plant, but things are progressing quickly. About a year and a half ago MTW Juarez started their second church plant, which is growing and in need of land. A third church plant is in the works which, if all goes according to plan, will be completely self-sufficient within two years, and looking to plant another church itself.
"Where I would love to see this field go is to where we're not needed," Jamie said. "To where the church is completely self-sufficient, multiplying in every way. In leaders and disciples and churches planted. … We're trying to work our way out of a job here and then see where the Lord wants us."
Not yet subscribed to MTW Online? Subscribe at mtw.org/blog.